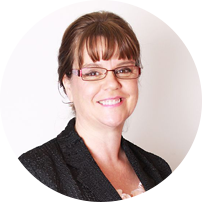 Colleen La Touche knows personally the effects that an unforeseen illness can have on a family and business. Her approachability, down-to-earth nature, and keep-it-simple approach mean clients understand their contracts and how they will work at claim without any confusion.
---
At a sales meeting I attended, we were all challenged with the question:
Why are you doing this job?
Although a very simple question, when I considered my response, I realised the answer was many things.
Why?
Because I care ...
Because I want to make a positive difference when people's worlds turn upside down through unforeseen events ...
Because I believe in insurance, and the financial outcomes it can provide …
Because I know when policies are structured correctly, it is not just one person, one family or one business who reaps the benefits, but rather a community as a whole ...
Because I want people to understand the insurance contracts that are available, and be able to make a choice on what is right for them ...
And, Because I have experienced firsthand more than once, what a major illness event can do to a family.
When I was fifteen my world was turned upside down and below is my story.
My mum, who had been feeling unwell for quite some time, blacked out whilst driving and ended up in a ditch.
After some testing she was diagnosed with a benign brain tumour, the size of a tennis ball, growing from her skull and pressing onto the brain.
To remove the tumour successfully required the removal of part of her skull and for nine months my mum had to have her head bandaged and protected from any knocks whilst she waited for her second surgery to have a plate inserted.
In 1982 there were no trauma insurance covers that would pay out a lump sum for the diagnosis of her illness, and the financial impacts on our family started immediately.
My parents owned a Four Square store in Northland. Mum worked full time in the shop with some part-time staff and Dad primarily did the rural deliveries.
As the surgeries were performed in Auckland, the part-time staff were required to become full-time, and a van driver was needed to be employed to do the deliveries, so my Dad could stay with my Mum.
Although there was no significant impact in business revenue due to the staff taking on the extra duties, the costs of employing them had an effect on my parents' personal income.
When it became apparent that Mum's recovery time would be more than a year, and that she could no longer be actively involved in the business, the decision was made to sell.
Dad did not look for employment until after Mum's second operation and there were a number of months where our family lived off the savings they had.
Although this happened whilst I was a teenager, the memories of this time are still vivid today. This is not an experience I would wish on anyone, and although an insurance contract does not take away what is happening, it can provide people with some level of financial security during a stressful time.
For many, insurance policies and their wordings can be confusing. Often the reason and purpose of contracts are forgotten over a period of time, and need to be re-explained. If you would like a no obligation review of your existing risk insurances (life, major illness (Trauma) cover, total and permanent disablement, income protection and medical covers), please contact
colleen@valour.nz
Referral programme

A referral is the best compliment I can receive. If any of your friends, family or business associates require assistance with insurance, please get in touch.
More Information >
"Thank you for making it so easy to put in that claim, clearly explaining things, meeting with us around our schedules and most importantly just being there for us. You're amazing."Ray and Kirsty | Auckland
"Colleen La Touche has been my insurance advisor for a number of years now and I have always enjoyed her professional yet personal advice in respect of my insurances..."Mark | Auckland
"On behalf of my wife and I, we wish to express our gratitude in your highly professional yet personal approach. You provided empathetic support and encouragement beyond what..."Winston | Auckland
"It was an absolute pleasure to deal with you, and we are so grateful for your thoroughness (don't know if thats a word, but it fits my meaning), as Scott and I feel we have covered all bases now and feel secure..."Scott and Lee | Tangiteroria
"I worked with Colleen at Solutions and experienced first hand how dedicated she is to clients. Her knowledge of insurance products is second to none and she is constantly asked for advice by other advisers..."Tony | Gulf Harbour